Professional Removal Services in London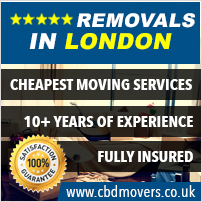 At some point in our lives, we are bound to take that big step and move to a new home for professional reasons or personal reasons. It can be a pretty anxious process to pack all your belongings, move to your new place and get accustomed to it. Amid all such mixed emotions running in your mind, you do not want to burden yourself even more by taking complete charge of your relocation.
You need someone reliable to give responsibility for the relocation. And that's why we are here!
CBD Movers™ UK is among the best moving companies in London, which will help you to relocate your house from scratch. We can help you with packing your things, bringing in all the required packing boxes and other packing stuff without burdening you to search the neighbourhood for suitable boxes that will fit your furniture and electronics. Being the affordable and best removals in London, we have some specialized latest equipment that will safely load all your boxes into the truck with the help of our experienced packers and movers.
Furthermore, you don't need to worry about planning the route for transportation or any other logistic details. We have some of the most experienced removals teams among all London removals companies, and they will do a great job of planning your transportation.
Why CBD Movers UK is London's Best Removals Company?
No matter what kind of requirements you need to move to London, CBD Movers UK is the answer. We have extensive experience in moving household items and office assets inside a city or in-between states. No matter how small or large your relocation requirement is, we will assign a dedicated removal services London team to help you from the start of your relocation. We have our depots in important spots in London and other nearby cities, and with our state-of-the-art fleet of vehicles, you will be all set for your move.
Why do you need to look for an affordable removal company in London?
We have the most economical removal services, offering budget-friendly relocation options that can fit into your relocation budget. We have a thorough network of CBD Movers UK all over the UK, especially in London, and this stands as an example of the vast experience we have with moving in London and to other places in the UK. With our experience and expertise in the local London areas, we can relocate your things faster with better efficiency than any other London removal company.
We are one of the best and most affordable removals in London and Portsmouth majorly due to the high knowledge and over ten years of experience of London Movers. We can assure you a safe relocation of your items as we have proved it time and again with many of our customers.
That's why we have a lot of customers who come back to us for their next relocation needs. We also have a high percentage of new customers in London who come through referrals, which is one of the highest among the best moving companies in London.
The Best Movers in London
We offer a comprehensive moving service comprising everything you will need to relocate your home or office.
Moving Home: No matter if it is a one-bedroom apartment or a double-storey villa, our London movers move your items securely inappropriately sized trucks. You can just relax, watch our movers get into action and have faith that your belongings are in safe hands.
Moving Office: We have a large fleet of vehicles to transport your office materials with complete protection for your electronic items and furniture. As we have many depots around the city, you don't need to pay high travel fees.
Packing and Unpacking Service: As you move to a new place, you will have a ton of work other than relocating your things. During such stressful items, our London Movers can step in and take charge of packing your things at your old place and unpacking them at your new place.
Man with a Van: Are you moving to a studio or small apartment with two or three large items? We offer two guys and truck service to small London removals, to meet your requirements. This is also a great option for people planning to shift business location or make office space in their homes. You get two movers and a truck which has a volume of 25 cubic meters in this package. Our trained man with a van London team will go beyond to offer a pleasant experience to our valuable customers.
Furniture Removals: We offer complete furniture removal services to make your moving process hassle-free. Our professional furniture removals London experts know the importance of correctly packing your furniture and making sure it arrives safely at your new home. We can even dismantle and unpack your furniture with high-grade, and environmentally friendly packing materials for maximum protection. Some other services that we offer on your demand are:
Unload and unwrap your furniture
Organize furniture inside your home
Remove all excess packing
Piano Movers: If you are shifting your house or want to move your piano to another location, we can help you. Our trained removal services London specialist can move any sort of piano right from little uprights to full-sized pianos. They take extreme care to and from upper floors and ground floors, around tight corners and limited staircases. We have vast experience in Piano moving services in and around London. We have experience in handling the following type of piano:
Baby Grand Pianos
Upright Pianos
Panola
Piano Move from Upstairs
Organs
Piano with hard excess
Pool Table Movers: Pool tables are heavy, large and awkwardly shaped items along with a delicate surface that can easily be damaged. Mostly pool and snooker tables weigh up to 1000 kilograms. You don't want to hire an inexperienced or ill-equipped company to move your pool table. We have specialized in pool table removals for many years. Our highly experienced and friendly staff is specialized in pool table removal. Our moving vehicles are built with hydraulic tailgate lifts to move them with ease. Additionally, we protect your pool table with specialized equipment to reduce the risk of any damage to the items and surroundings.
Locations we serve in London are:
Are you looking for stress-free and affordable removals in London? We plan every single detail for you.
Moving is difficult for many people. The primary thing that can reduce your stress with moving is hiring a London removal company that has adequate experience and professionalism. We understand the demands of the industry and possess highly qualified and experienced professionals. In our fifteen years of experience, we can carry out almost all removals and moving operations right from packing to unloading. We have been continuously expanding across the territories of the UK, including Manchester and London.
We are one of the most trusted moving companies in London. Our removals team offer high-quality storage facilities to our clients as well. From home removals to furniture removals, commercial removals or small removals in London, you can contact us for everything for a stress-free move. We give you free removal quotes in London. Our moving and storage services are offered at very affordable prices along with cleaning services. Be it a commercial move or even if you are moving home, we can help you out. And our professionals use high quality, strong packing materials to ensure the complete security and safety of your items. We are a professional removal company in London. We own years of experience in removal work in London and the United Kingdom. Our removals team is professionally trained to deal with all types of removal work.
Our experts can go the extra mile to make sure everything is done as smoothly as possible and take care of any furniture moving requirement both local and long-distance removals. Feel free to contact us.