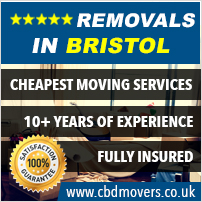 Bristol is amongst the most prosperous cities in Southern England. One of the sunniest and warmest cities in the UK, it is invariably preferred by those wary of the UK climate. Loaded with facilities and features for work, accommodation, and leisure, Bristol is thus the place to be in!
Finding a moving company in Bristol may be a difficult task. After all, relocating is one of the most stressful events a person can experience. You need removals in Bristol who can help you to relocate. It is also important to choose a moving company in Bristol that will make the process as simple and painless as possible. CBD Movers™ UK is the specialised relocation company you've been searching for.
We pride ourselves on providing the most cost-effective and efficient moving services. We understand that not everyone is capable of lifting furniture, packaging and wrapping furniture and other things, and then unloading them. This needs special abilities and knowledge which CBD Movers have. We provide the finest and most secure moving solution for your move.
Our Comprehensive Removal Services in Bristol Include:
Office Relocation
Packing & Moving
Piano Moving
Pool Table Moving
Tailormade Moving Solutions by the Removals Bristol
Moving your house may be a stressful experience, particularly if you attempt to manage the whole process on your own. Count on us, the best home removals in Bristol for an easy and quick procedure. You can rest assured that your priceless items are in capable hands when you work with us. Our experienced removals have lots of experience relocating houses across Bristol. We distinguish ourselves from the competitors by providing customised solutions that are tailored to your specific needs and budget.
Best Removals in Bristol- We Make Moving Fast and Easy
CBD Movers UK is the best option for big or small furniture removals in Bristol. We understand how important it is to properly pack your furniture and deliver it securely and on schedule. Because of this, we combine the unmatched expertise of our removals with the most advanced technologies to make furniture removals as stress-free as possible.

We do not just pack and move your furniture; we do it with the greatest accuracy and attention to the highest quality standards. Each item of furniture, no matter how large or small, is carefully packaged and delivered in properly equipped trucks.
Trustworthy Packing and Removal Services in Bristol
Packing is the most important element of a successful relocation; a well packed box will guarantee that your belongings arrive in the same condition as they left. Our packing service is provided by professional packers who understand how to pack delicate and fragile goods securely. We can provide a comprehensive packing service using a range of different boxes and packaging materials.
CBD Movers UK is Bristol's most reputable house removal and packing company. We work precisely and efficiently to ensure that each job is completed correctly. Our company places a high value on customers and thinks that customer satisfaction is the most important achievement.
Affordable & Efficient Relocation Services with CBD Movers UK
We have an established track record as Bristol's professional house removals, providing cost-effective and efficient home moving services. Our professional and courteous services are customised to your specific needs, and our trained moving professionals guarantee the greatest care is taken in protecting and transporting your treasured belongings. We are fully insured and licensed house removals in Bristol, and adhere to strict quality control procedures to guarantee a safe and quick move at a reasonable price.

We are your trusted home removals in Bristol for all your relocation needs. When it comes to quick, reliable, and cost-effective house relocation, CBD Movers UK is a brand you can rely on. Whether you're relocating locally or interstate, we are the premier Bristol house removals that can walk you through every step of the process. Our tailored moving solutions, comprehensive services, and meticulous attention to detail will quicken and simplify the relocation process.
If you are looking for the best removal company in Bristol you've come to the right place. To know more about your friendly, local home removals service, call us now to get a free quote.