The relocation of your office furniture and important documents to a local city or long-distance move across the UK can be a major hassle. That is why our talented team of professionals at CBD Movers is here, well-equipped and committed to delivering quick and efficient office removals services to make sure little downtime for your business office. Our office move experts have many years of experience to move all sorts of commercial premises at a time that best suits your needs, and besides this, we can also unpack your entire office stuff to get it ready for work the next morning. We also offer specialized office removals London team for high-quality commercial removals at very reasonable prices.
We have been offering high-quality office relocation services in London for over a long period of time. Being a renowned office removal company, we have done every type of business relocation work. From moving office furniture to complete office removals service, people prefer us all the time. Our team is highly trained and experienced to carry out any type of commercial move with complete peace of mind.
Office Removals Companies London
The office move is such a difficult task. When you search for removal companies in London, you would probably be confused with so many names. Keep in mind that not every office removal company is as experienced as we are. We have huge experience and have been serving people with commercial removal services.
There are lots of office removals & furniture removals companies in London that are operating their removal service. But it takes experience, knowledge, professionalism and several other factors to get listed among top companies for office relocation services in London.
We have a long list of commercial clients who are happy with our services for office furniture removals in London. They recommend our office moving services to everyone. This makes us a famous office moving company in London. Whether you are searching in Central London for office removals or any other part of London, we are always there to help you.
From internal moving (moving within the same building on different floors) to moving locally or interstate, you can contact us. We have handpicked our move teams and have trained them a lot.
From moving furniture and equipment to moving machines, and other office inventories, our team can easily handle everything. Not only we are the most professional office movers, but we are also your house movers.
We Offer Best Relocation Services in London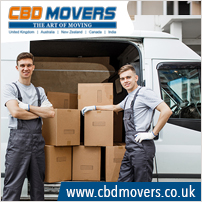 Apart from office relocation services, we also provide business storage. We have secure storage options for businesses. We can give you both short term and long term storage option. Our storage service is designed for commercial clients to store their office equipment. We have options for cost-effective storage solutions for every type of commercial requirements. From a few days to a few weeks, we can help you with that. Our storage services are secured with CCTV cameras, smoke detectors, locks, etc. You are free to access your belongings during business hours on any weekday.
Moreover, we also provide you with a high-quality packing service. Our office removals London experts, use strong packing materials which can provide extra protection to your belongings. We assign a project manager for everyone moving project who remains the single point of contact so that you can stay updated with the moving process.
At CBD Movers UK, we have great expertise in moving every type of office irrespective of its size, be it a small office or a larger one. When you are in need of office removals in London, always make sure that we are just a call away. We will send you a free quote for business relocations.
Our Flawless and Courteous Office Removal Services in London include;
Complete Office Removal
Office Furniture Removal
Two Movers and A Truck Service
Interstate Office Removals
We are aiming for a widely established network across all major cities and states of the UK including London, Manchester, Birmingham, and Glasgow that will let you experience a trouble-free removal of all office stuff including furniture and equipment. Our expert team for office moving services in London or more places promise you quick settlement in the new office besides ensuring minimum disruption and revenue loss. For Booking or any query contact us.