A lot of homeowners struggle with these few questions that pertain to paying the mover in advance. They become hesitant and do not wish to part from their money. Let's clear those doubts in this post.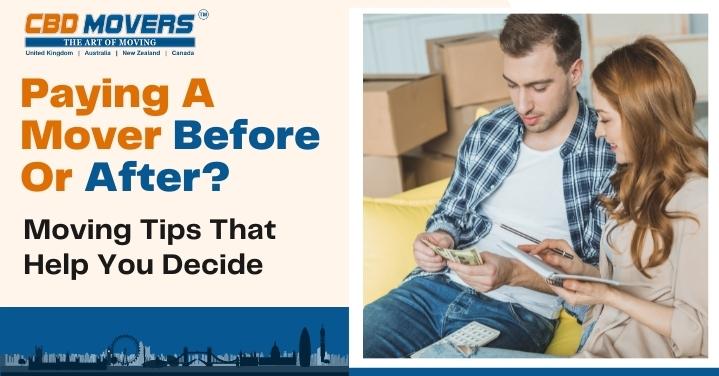 How Much Amount A Homeowner Should Pay A Mover in Advance Is A Big Question
You should be aware of the average cost of a typical moving and packing company before you pay them anything in advance. The average cost should turn out to be very affordable given the intensity of competition around the city. The typical price for short-distance moves should be very nominal, provided you book their services well in advance. If you have planned a long-distance move, the movers might jump the price significantly. In that case, you might have to pay a price that is significantly higher than what you would have paid a month back.
Some removals companies might decide to subcontract long-distance removals which is a normal practice to come across. If a company is not equipped enough to handle long-distance removals, they might go down this road. You can even ask the moving company professionals to perform an in-person estimate of your entire cargo. They will assess the belongings that you want to move from one place to another and will come up with an initial price.
If you are curious about the per hour charges of these companies, they can vary depending upon the reputation of the company and the experience of their labour. This applies to local moves. If you are hiring a team of two members, the minimum cost can get much higher depending upon the distance and the weight of the cargo you want transferred.
How Much Money A Homeowner Should Pay As A Booking Amount While To Movers Company Is Also Critical
This is going to depend entirely upon the company and their advance booking policies. However, there are a few tricks and tips that can get you a better price. Let's understand what those are:
Compare And Choose
Begin by asking for quotes from different removals companies in Nottingham and comparing them with one another. The majority of the packing companies would consider reducing their advance amount once they find out that you are considering other options.
Say No To Additional Services
This is typically a value-added service which means they are allowed to charge extra for their additional services. You can also negotiate on these services and ask for a rebate if you do not wish to avail them.
Distance Matters Too
If you are making a move within the city, it could be that the distance is very much manageable. You can ask for special discounts if you are not moving between far-off points.
Note: A typical moving company in London may charge a nominal amount of 10% but it could go up to 30% depending upon the amount of cargo you may have. So, if you don't have a lot of stuff to move, you may ask for additional rebates on the advance amount and the entire cost as well.
The Question That Whether It Is Mandatory For Them To Pay A Mover In Advance Also Arises
Several removals companies in Nottingham would generally ask you for an advance payment. It is a very common practice and you should not stress over it too much. In many cases, this advance money is totally refundable provided you cancel their services within the prescribed window as mentioned in the terms and conditions of the company.
It is a good idea to pay the moving company in advance because then you will have their services booked for the entire day or the duration previously decided by you and the professional. It also ensures that the company does not back out when the final day of removal comes. If you are a thrifty shopper, you might want to consider employing these tricks to your benefit. Happy moving!