Moving can be upsetting to humans, so just imagine how unquiet it can make your pets. Pets can easily get stressed when in their home there is an unwanted activity or when they get exposed to a new environment.
All in your family – including your animals – stress is involved in moving. You should guarantee that your pet will feel less stress while shifting, whether you have a dog, cat, Guinea pig or fish.
Below are some exceptional tips for moving with pets which hopefully will simplify your life:
Take some time to schedule and plan your move with relocation services team in Hillingdon in order to reduce stress for both you and your pet. Focusing on the before, during and after your move will make it easier and safer for your pet friend. Use these tricks to move with pets to make your life much less stressful.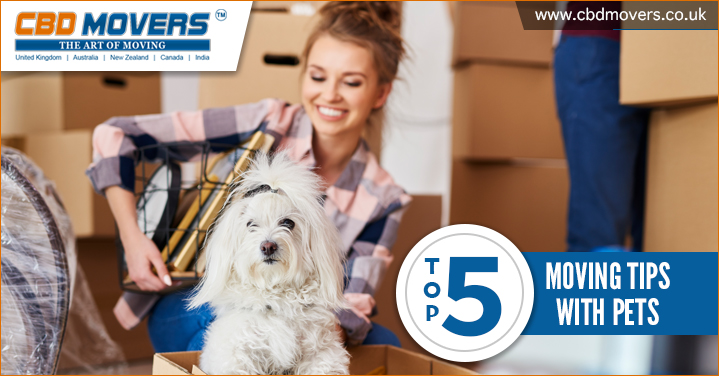 How To Move With Pets When You Hire a Moving Company in Hillingdon:
1. Pack Over Time
This moving tip is guaranteed to make it easier for both of you. A lot of people are making the mistake of waiting until the last minute to pack up all their belongings. The packaging is always time-consuming. You're going through a bunch of old things that don't understand what's going on. It takes a while, of course, to distinguish between what you want to hold and what you want to give or throw away. If you're nervous, your pet will often pick up your anxiety and it makes them more stressful and uncomfortable.
2. Research Pet Laws and Regulations
One of the things you sometimes miss when traveling with pets is figuring out what the rules and regulations are about keeping them in your new area. You may have to register the animal, pay a fee or meet different vaccination requirements. Before you arrive, you have to take care of all this.
3. Talk To Your Vet
Tell your vet that you are relocating so that he can help you prepare your animal. You may need to check vaccinations. If you are moving far enough, you might want to get a recommendation from your current veterinarian on a new veterinarian in your area. If your pet has some anxiety, the veterinarian can prescribe medicine to help.
4. Make a Travel Kit
Assign a small amount of food to your pet, along with the bed, toys, and any other things you may want to reach quickly. This way, you can bundle most of them with the rest of your belongings without worrying about digging in boxes to feed your animal.
5. Stay Secure on a Moving Day
Keep your pets safe on the day of the move. It may be easier to leave it with a friend, but if this is not an option, you must decide how to keep it isolated and safe when you leave the old house to the new home.
If you need any assistance from moving company Hillingdon, contact CBD Movers UK. They are very professional to move pets and provide the best relocation services Hillingdon.