Whenever you are planning to move, it is important to hire packers and movers in London because they can easily handle the entire moving process. Packing and moving all your belongings on your own can be a difficult task until you hire professional packers and movers in London. But it is not easy to find a suitable movers packers service in London. There are many movers who claim to have the best services, but it is very difficult to find truly reliable packers movers.
Professional packers and movers are those who take proper responsibility and go the extra mile to ensure that your belongings are packed and delivered with care and attention.
Here are a few tips and tricks to choose reliable packers and movers in London: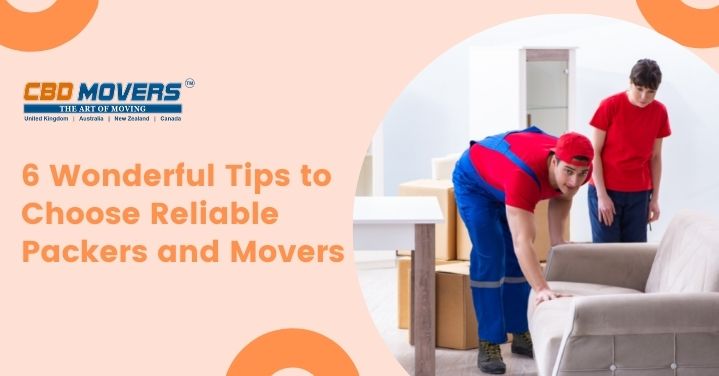 Proper Investigation
Exploring something thoroughly provides you with complete information, that's why you should begin your search for packers movers companies on the internet. Make a list of some of the best movers you've come across who have given excellent service or have a large number of satisfied customers. Then, shortlist them based on their services, costs, and social media presence, so on.
Consider Costs
It is important to choose the right packers and movers in London to suit your moving needs at affordable costs. In general, costs are determined by the size of the move as well as any additional services that you need. People, on the other hand, always choose the packers movers that provide the most economical quote, but this does not guarantee the quality of the services. As a result, it's critical to find a business that provides the best costs, products, and services.
Make Inquiries About Any Hidden Costs
There are several professional packers and movers in London that do not disclose any hidden costs at first but then ask for them after delivery. So, it is preferable to be cautious at the beginning and avoid paying unnecessary fees. Always query about the hidden costs of movers packers services, such as toll rates, assistance tax, and so on. You should always be confident about the moving company you are about to hire because once you have chosen the company, there will be no way to back out.
Validate Authorized Documents
Verify the company's authorized documents before finalizing the agreement. Check whether they have a valid license or permit to operate. If you have any issues, you would need the services of trustworthy packers movers that are individually responsible to you and your belongings. You can choose from a range of evaluations and inquiries to find the best packers and movers for moving & removal services in London. To produce better results, you should always work with a trustworthy organization rather than a single employee.
Check For Insurance Coverage
You don't want to see your belongings damaged after packers and movers move them to your new home. This is why you should book your move with a reputable Packers movers company that offers insurance. However, there's a risk that any of your valuable possessions will be damaged during transit. As a result, hiring movers packers services from a reputable moving company that also provides insurance for your belongings is often the best option.
Invite Packers and Movers To Conduct a Pre-Move Survey and Obtain a Quote
If you don't want to fall victim to a potential moving scam, you should invite Packers and Movers London to conduct a pre-move survey. Packers and movers will be able to provide you with an accurate moving estimate once the pre-move survey is completed. When movers come to your house to conduct a pre-move survey, don't hide a single thing. Show them every item in your home so that they can provide you with an accurate cost estimate for your move. Make sure you have a written estimate. Furthermore, carefully review the estimates before signing the final agreement to ensure there are no errors.
CBD Movers UK can provide you with the best moving services at the best price. We can assure you that everything will run smoothly and you don't have to worry about anything. Please contact us as soon as possible to schedule your moving services!!!!