Moving your possessions isn't as easy as you may think. So you need to do adequate research and planning to organize all your things and move them safely to your new place. Although some people may try to do it alone, it might be a good decision for you to use a man and van Glasgow removal service as an alternative. If you're thinking of moving a furnished, rented house, a studio apartment or a small flat anywhere in the UK, using a right man and van Liverpool service could save you on removal charges.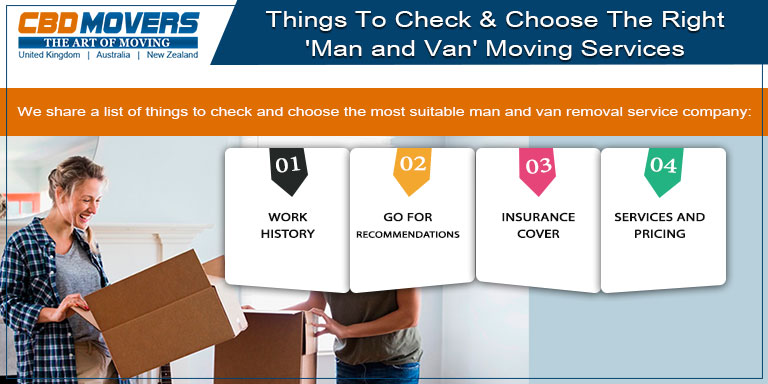 Whether you want to transport large or heavy furniture items throughout the UK or just have a minor moving job you need to do, the man with a van Bristol service is the right choice for convenience and cost. There are quite a few moving services in Nottingham that are becoming increasingly standard with tenants and businesses throughout the country. So, if you are thinking of moving something across the UK, make the right move to use a cost-effective man with a van removal service from a reliable moving company Newcastle Upon Tyne.
But it is never so easy to choose the most appropriate man and van services out of a plethora of removal companies. So, here in this write-up, we share a list of things to check and choose the most suitable man and van removal service company:
Work History

Shortlisted five most suitable removal companies and ask about their work history. Go through their individual Google and Facebook page or other social media accounts like 'Yell', and check whether or not they have received good reviews from previous clients. You can quickly find the information you need about a man and van Glasgow service company to either Google their trade name or simply enter their phone number.

Go For Recommendations

It's worth asking your colleagues or nears and dears for personal recommendations from who has gained previous experience of moving. This can help you save lots of time and stress to choose a reliable moving company.

Insurance Cover

Mostly man with van services across the UK including Liverpool, Glasgow, Newcastle upon Tyne, Nottingham, and Bristol can provide you with three types of insurance cover as discussed below:
Vehicle Insurance

All moving service provider companies need to have a vehicle policy which is more expensive
than other policies and covers the whole vehicle. Therefore, before hiring the service provider
the company makes sure it holds an appropriate vehicle policy to cover any mishap or damage during the move.

Transit Insurance

If you are moving with your valuables, it's recommended to have transit insurance to cover all
your goods that are being transported to a new location. This insurance policy usually covers any
accidental damage caused by a vehicle crash, fire or any other unfortunate events.

Public Liability
This insurance policy covers both customers and members of the public for any physical injury
and building damage. Therefore, it's worth asking a moving company Newcastle Upon Tyne for at least a vehicle insurance and, if possible, the other two as well.
Man and Van : Services & Pricing
Make sure that your hired man with a van Bristol removal service provides you two movers, a driver, and a vehicle that is large enough to carry all your luggage. It's even worth making clear about the level of service that is being offered to you, how much you need to pay, whether you will be charged for a fixed price or an hour? Also, clarify if moving items up and down stairs are included in the prices or are charged extra?
If you are planning to move to a new city anywhere across the UK and looking for hiring a reliable and cost-effective Man and Van moving services Nottingham, simply call and talk one of the consultants to share your requirements.