The most common concern recognised is helping the elderly and disabled to relocate. Due to disability, it becomes very difficult for them to pack their stuff and to make rational decisions about what to pack and how to pack. Therefore, they need someone to assist them. Removal companies in Birmingham are playing the role of the brightest star in the constellation of elderly or disabled people who are having concerns regarding a secure move.
There is one service which is very suitable to help older and disabled people, and that is the man with a van service in Birmingham. In this service, a man plays the role of a one-man army. He comes alone in his van and helps with packing, loading, moving and unloading.
Many removal companies in Birmingham are offering this service. Moving with a man with a van has become a trend in Birmingham because it is an easy and affordable way of moving.
In order to ensure the safe and secure relocation of disabled and older people, one needs to either hire professionals or consider some points during their relocation.
Here are some tips to make the moving of older and disabled people easy and safe: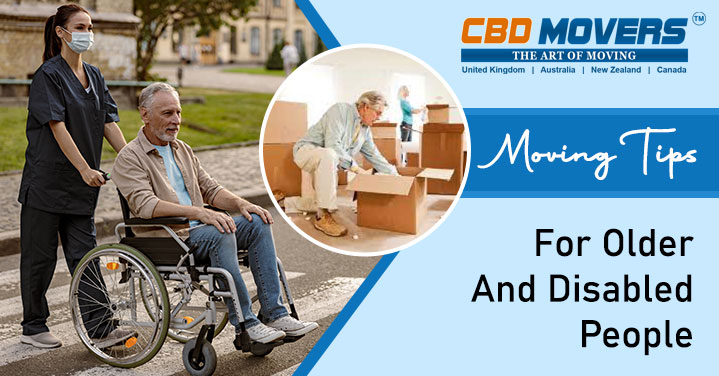 Preparing a moving checklist

Our grandparents always have so many proud possessions that they have saved over the years. It could be antique crockery or ornaments passed down from their ancestors. They are not only emotionally attached to them, but they are also very particular about not harming these possessions. And in the case of people who are challenged with disabilities, there can be a lot of things like medical equipment or machines that are required to be moved safely.
In order to ensure the safe movement of delicate and important things, one can make a checklist of things that are required to be moved. Doing so will make sure that none of the essentials are left behind and will save you from last-minute panic. It also helps you save a lot of time.

Quick-handy bag

While packing their belongings, keep some essentials for overnight packing. This quick-handy bag will have the essentials they may require very often. It is an arduous task for them to do the unpacking time and again to take out their stuff. A quick-handy bag will be packed the night prior to shifting and will remain with them on their way. It may include their medicines, toiletries, water, snacks, mobile chargers, etc.

Organized packing

We all pack in a planned manner, but in the case of elderly people and disabled people, proper planning is required. You can pack by considering all the things they use the least and packing them first. Then all the things they need can often be packed in a handy bag. If the person is suffering from a cognitive disability, then it is advisable to label everything while packing so that they can easily adjust all the things while setting up their new house.

Sanitizing arrangements that are adequate

One has to be very careful regarding the health of senior citizens or differently-abled people. They are more prone to diseases because of a challenged immune system. So, before you move into your new apartment, make sure that you sanitise the place with the proper disinfectors or pest controls if required. Plan it a few days prior to shifting so that the fumes do not affect them immediately.

Find health-care facilities

Before you move into your new place, look for the doctors in that area for instant help. You can ask your family doctor for doctor referrals based on your specific needs. Plan a visit to them in advance to update the treatment history in their records so that no panic is caused when you visit them in need.

Find out about local clubs

For the elderly who have lived for years in the same place, shifting can become very overwhelming. The sudden shift in their environment and routine can result in their experiencing mood disorders. In order to save them from this emotional dip, you can find hobby clubs or senior citizen activity clubs for them in that locality. It will help them make new friends and adapt to the environment. There are various hobby clubs for people with special needs also. So, if you have someone in your family who needs special care and who you think may get into an emotional dive due to shifting to a new place, then start looking for suitable clubs or classes nearby already.

Consider senior and disability moving assistance

There are many fragile items that need to be packed with extra care. It is not only the antiques that the elderly have been saving for so long but also the machines or tools they use. It can also be that blood pressure checking machine, those heavy massage machines, or maybe the wheelchair and very important to pack those things with extra care. The process may require disassembling, packing in layers, choosing the right material for packing, etc. In order to ensure hassle-free packing, it is a wise decision to hire professionals.

Moving insurance

Medical equipment needs extra care while moving. They are expensive and fragile, too. It is advisable to ask your movers to provide you with moving insurance. They will be more cautious while moving your goods, and in case any damage happens, you can recover the cost.

Modifying the new place

Prior to relocating to your new place, look into the special arrangements that you may require. It could be as minor as the level of the door or cupboard knobs being adjusted to a certain level, or as major as checking the floor if it is slippery and the tiles need to be replaced, etc. By making the necessary changes at the right time, you can get things fixed before you move in. This will prevent the elderly from facing any issues later.
These were some of the tips that you need to keep in mind when you have an elderly person or a person with special needs in your family.