Moving is stressful in itself but the house and furniture removals during the holidays is a challenge only the seasoned can withstand. The rush in the London market, high rates all around, Christmas preparations to take care of – we get it. This is why we have curated a list of 7 points that can help you smoothen holiday furniture removals and move quickly and efficiently, especially in a lively city such as London.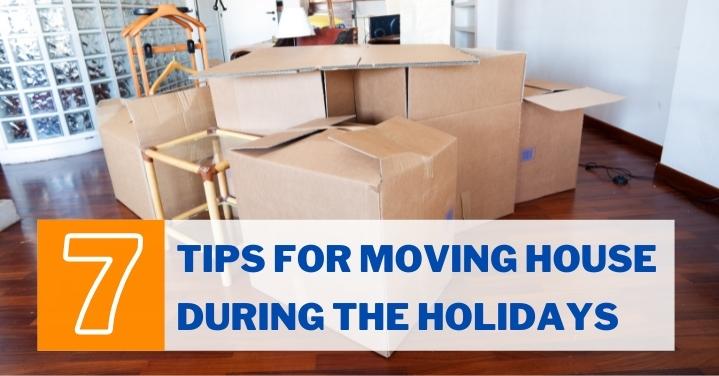 Plan Ahead Of The Furniture Removal
It is crucial to stay on schedule and plan ahead of the furniture removal. London's holiday season can get pretty hectic and it becomes your job to plan everything accordingly so that things go smoothly. Here's what you can do to plan the removal well:
Pick a date on which you plan to move your furniture.
Make a rough inventory of all the furniture you own.
Check in which packers and movers if you plan to get professional help.
Chart out a budget.
If you are moving with pets and kids, take that into account.
Move some things before the actual move begins.
Don't Be Shy To Ask For Help
Don't be shy to ask for help from a relative or a friend to make the furniture removal process a lot smoother. It is absolutely warranted that you make sure that things don't derail from the right course. If you have a contact who has a pickup truck, give them a call. You can also hire maids to clear out the new house where you plan to move your furniture.
Procure Supplies For The Furniture Removal
Make sure that you move your prized possessions with the right packaging supplies and execute the furniture removal in a much more planned manner. A heavy couch would need corner softeners, for example, to avoid any unfortunate nicks. Similarly, books go in large cartons and essential documents go in water-proof ziplocks. Procuring the right supplies for furniture removals in London is simple – but it is necessary to get quotations for these supplies because things can add up in the end. Also, if possible, always reuse old boxes and newspapers during the furniture removal to save money on packaging supplies.
Make a Detailed Inventory
Make a list of all the furniture and other stuff. During a furniture removal, things can get lost, misplaced, or just forgotten about. Especially when you are moving with a lot of things to catch up on during the London holiday season. To avoid these mishaps, make a bulleted list of all the things. It would even be better if you categorize the list under headings such as heavy furniture, sitting furniture, 'upholstery', etc.
Check Out How Much a Furniture Removal Costs
Whether you plan to move with or without any help or professional packers and movers, moving in itself would incur some costs on you. You understand your budget the best and during the holidays in London, any extra expense is not welcome. To avoid any surprises at the end of the furniture removal, make sure that you have a good idea about how much everything would cost.
If you want to move with the help of furniture removal experts, don't go for the first name that you hear or read about. Request quotations for your requirements and compare the costs. Also, compare their services and read about the kinds of inclusions and exclusions.
Move Essentials Beforehand
It is always wise to move some essentials such as a few water bottles, a mattress, a phone charger, etc. Once you move into your new house after the furniture removal, unpacking is another challenge. At least, you would have something to lie down on afterwards. We also advise you to move any essential documents such as identity cards, marksheets, etc. beforehand as well.
Hire a Furniture Removal Expert
To sum it all up, it is always recommended to go for professional help for furniture removal. They have the right experience and the proper gear to help you move quickly and efficiently. The experienced London furniture removal experts will also help you pack and unpack everything. Some movers also provide packaging materials. Hiring professional help for furniture removal in a city such as London is a wise choice, no doubt.