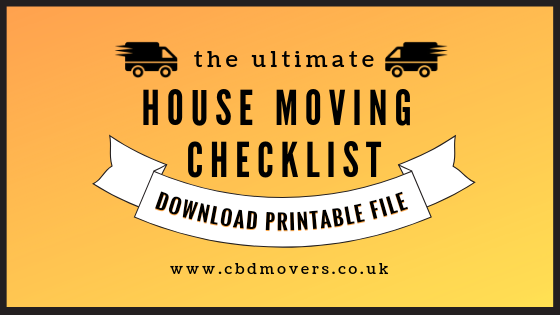 Wondering what to do before making move to your new house?
Worried about how to take care of everything in time?
So, before you stress yourself with the thought of exasperating task of moving house, just take a deep breath and keep reading our moving house checklist.
This will help you stay updated with the week-by-week timeline for a smooth transition.
Nobody wants to be surrounded by packing boxes and still pending with the major things. So, download our house moving checklist PDF to have a trusty sidekick in the moving house battle.
Hopefully, these tips and checklist will help your moving process streamlined as things can be easily forgotten when there is so much to think about.
Before jumping straight into a specific timeline of moving new house checklist, let's start with some general packing and moving house tips.
You may come across a lot of belongings that you haven't seen in many years. This is the best time to throw away items that you don't really need. You should get to know such things weeks before you move so that you don't have to take the trouble at the moment.
Your possessions can take more space than what you initially thought it would. It is recommended to contact london removals company to keep the guesswork out of your way.
The more time you invest in the packing process, the less complication you will go through while uploading. This also minimizes the risk of your possessions getting damaged in the relocation process.
Two Months Before Moving a House Checklist
You probably would be thinking that it's too early to start, but the secret to a stress-free move is advance preparation.
Moving house takes longer than what people usually expect it to be and there are chances that some obstacles may come in the packing process.
This usually happens when you pack your belongings all by yourself. Luckily, there are a few steps that can help you stay out of these complications.
Lock-in your moving company and chose very carefully. For an easy and safe move, you can book CBD Movers™ UK
Book your relocation vehicles
Check your home insurance.
Book pet transport if you are planning to do it yourself
Create a folder having moving documentation, receipts, and quotes.
Maintain your important documents.
Update your address at all required places. Inform the post office.
Change your address in car registration and driver's license
Stop shopping eatables to empty your fridge: Use frozen and perishable food
Dispose of everything that is no longer required
Note down the dents and scratches in your inventory
Conduct a new property inspection and organize a cleaner
Begin your floor plan by measuring the space of your new home
Check for the instruction on your electronic machines with the manufacturer, like washing machine
Make note of precious items that need extra protection
Plan how to carry jewelry and legal documents by yourself
Make sure that you will have mail redirecting to your new address.
Cancel or re-direct newspaper and any other subscriptions
In case you are traveling, arrange tickets, passports, currency, visas, accommodation, credit card, and other things
Research for storage facilities, if required
Obtain your schools and dental records
Set-up or transfer your utilities in your new address
If you are moving house in the UK then book highly professional and skilled packer company
One Month Before Checklist For Your Moving Day
It's never too early to implement these moving tips as packing will always take a longer time than what you expected.
Finalize and fix your moving day with your removal company to have a clear timeframe
Start packing yourself or organize a professional packing service to take care of your items
Apply for leave beforehand for the day your move
If you are living in a rented apartment then it's time to give notice
Normal contents insurance won't cover your items during the transition process. Get moving insurance from a moving house company
Change your address: notify the tax office, electoral commission, important contacts, and tax department about the address change
Arrange a packing material and carton from storage company (bubble wrap, labels, markers, tape)
Collect white butcher's paper and not newspapers
Start labeling carton with its designated room
Place your lighter items in large cartons and heavier items in small cartons
Dismantle furniture and place required tools with them, This helps you assemble the furniture with ease
Prepare your survival kit with coffee, tea, and kettle, pet requirements, bathroom necessities, medications, scissors, and snacks in one bag
Consider taking personal and sentimental items with you in your car
House Moving Checklist For Two Weeks Remaining
So this is the stage where you should make this housing moving checklist your bible. Keep a track of things with the checklist to ensure a stress-free, safe move.
Contact your movers to confirm your payment and removal requirements
Investigate moving requirements like access restriction, parking, traffic management, and protocol) imposed by authorities like body corporate, local council or building manager
Notify all the utility providers and arrange reconnection or disconnections
Organize Mail redirection
Redirect subscriptions or stop deliveries
Cancel domestic services like house cleaner or gardeners
Book in babysitter for your kids on a moving day
Ensure all important devices are backed up
If you have to travel a long distance then don't forget to service your car
Arrange final readings of electricity meters and gas
Remove batteries
House Moving Checklist For One Week To Your Moving Day
The one week should be dedicated to the final checks and tick off your list.
It's important to give your new home a final inspection before 24 to 48 hours. This helps you ensure that your property is best before settlement
Collect the keys of your new home from the agent or visit your landlord to collect the keys yourself.
Confirm all the details with your removal company (both old and new addresses)
Insurance requirements
Inform your removal company about any changes or additions to your initial plans
Payment requirements and options
Keep towels and bedding in a separate box for your moving day
Double check the jars and lids to avoid any spills during the transit
Place plates vertically to keep them secure and prevent any breakage
Sprinkle water on flowed and pack them into plastic lined boxes
Drain oil and petrol from equipment and tools
Suggestion Reading: 6 Things Not To Do During An Emergency Move
House Moving Checklist For A Day Before Your Moving Day
This moving out checklist would rather be smaller than the other days. You should be doing the last minute odd jobs. By this time, you must be feeling relieved and stress-free, if you have been following the tips mentioned in the moving house checklist. Avoid packing nonessential and unwanted items.
Moving out the checklist for a day before shifting includes:
Your packers will arrive at your house today. So, it important to provide them with clear instructions
Prepare an "essential kit" that has basic requirements for the moving day (a first aid kit, bottles of water, phone chargers, prescribed medication, and other things)
Assemble a bag for every family member that has clothes for moving day and toiletries
In case of any modification, inform your revivalist
Defrost and clean your freezer and fridge
Fit your washing machine with shipping bolts
Charge your mobiles and keep them at a safer place. Write down important numbers in your diary for situations where your phone runs out of battery
Recheck with your utility company if the services have been scheduled to be disconnected or reconnected
Keep some cash in hand to cover the last moment expenses
Prepare an action for your very busy moving day
The House Moving Day Checklist
We have helped a number of people moved, and understand the stress and challenges of a moving day very well. So, whether you opt out for a removal company or do it yourself, we recommend you to follow our moving house checklist:
Give the movers the clear instruction and detailed tour of your home to ensure adequate access for the moving vehicle
Verify the destination address and give 2 contact numbers
Make sure that the priority boxes are easily accessible, mention this to the removals team so that they can load it last and take it off the first in the new house
Check if all the treasures have been loaded on the van by ticking off from the inventory list
Carry important documents and jewelry with you
Place a note of your new address for any delivers and emails coming to your old house
Make Sure You Check On This List Before Leaving Your Home
House keys have been returned to the real estate agent or solicitor
Everything important thing has a back-up
The house is locked and secure
All utilities have been turned off
The garage door opener is left behind
Check everything is satisfactory once the unloading process is over
House Moving New Home Checklist
Give the moving team ideas about where you want your belongings to be placed. We recommend you to give them a copy of your furniture plan
Check all your utilities are connected or not
Carefully check the condition of all the unpacked belonging before you sign the inventory
Complete a condition report in case you are renting and it is advised to take photos for your records
Examine if any items are left behind by the previous occupants. Make sure that the toxic and poisonous substances are cleared and the garden is safe for your children and pet
Leave fridge in a standing upright position for three hours before switching it on to allow coolant gas to settle
Assemble your beds first and then unpack the bathroom, kitchen, and other key areas
The Don't Pack List
These items are recommended to be taken with you rather than putting them off in the van
Important documents (marriage license, passport, birth certificates, social security number and records having bank account information)
Credit cards
Checkbook
Phone and charger
Medication
Laptop and charger
Jewelry
Flashlight
Tape measure
Trash bags
Toolbox
Paper towels
Cash
Any other valuable items
Must-have Packing and Supplies Checklist
Boxes of different sizes: Small, medium. Large, extra-large, divided boxes and plastic bins
Tape: Shipping tape, masking tape for labeling, duct tape or strapping tape, tape dispensers, and painter's tape for immediate projects
Scissors
Stickers Labels
Box cutters
Gloves to protect your hands
Colored markers or stickers for room color coding
Twine, Rope, bungee cord and tie-downs to keep furniture and boxes in place
Packing material: Packing paper, bubble wrap, bubble wrap
Blanket to protect the mirror, furniture, and your TV
Felt pad to protect the floor
Basic cleaning supplies
How to Pack Checklist for Moving
Pack bowls and plates together in boxes. For fine china, use bubble or paper wrap
Wrap each piece of glass separately before putting into boxes
Silverware should be packed in the packaging they came in. If that is not available then pack them in sets and cover with plastic or paper
Wrap cords around your small appliances and secure it with duct tape and cover them with paper. Pack in cushion and boxes with towels or paper · Electronics are advised to be put in the original packaging. If you don't have them then wrap them in towels and blankets, and place them in boxes. Use padding to fill in open spaces
Wrap your mirrors and artwork in blankest
Break down the beds and labeled boxes and bags. Place bed hardware attached to the headboard in plastic storage with a duct tape
Buy wardrobe carton to store hanging clothes and unpack them with ease
Place jewelry in a container which you will take with yourself
Make a box that has your makeup, bathroom towels, and toiletries
Disconnect washer hoses and store inside the machine, and tape the cord with its appliance
Repeat the same thing with dryer vent as well
Discard bleach, detergents and fabric softeners as they can be dangerous to transport
Drain oil and gas from the mower and other lawn equipment
Wrap saws, hoes, axes in old towels and pack them in your toolbox
Dispose of weed killer, fertilizers and paint
Moving House Checklist Who to Notify About the Address Change
There are certain places where you can't miss to not inform about your new address. Our moving house checklist of the address will help you covers these major places to avoid any kind of problems in the future.
Inform your employer to update your contact details for payroll and other purposes
National Insurance, DVLA, and HMRC
Council tax
Department of work and pensions (in case you are getting money from them)
Electoral Roll
Local Gym and Club Membership
Cable or Satellite Service Provider
TV License
Driving License
Car insurance
V5C Vehicle Log Book
School or university
Healthcare
Insurance policies
Credit/Debit card companies
Electricity/ Gas/ Water suppliers
Royal Mail
Moving into a Rented House Checklist
There are certain things that you need to organize when you are moving into a rental property. To help you begin with the things and sort them out everything with the landlord, we have prepared this house moving checklist.
It is recommended to place your deposit in government-backed tenancy deposit scheme after 30 days when the landlord has received it. They should send you a certificate proof for the same. So even if you reach a dispute while moving, your deposit will be in the scheme till the time you reach the agreement
Reach out to your current landlord and inform them about your moving date
Complete any move-out damage checklist
Contact your new landlord and pick-up the keys
Schedule professional movers and notify them about your time and new address
End or update your current renter's insurance
Purchase new insurance plan
Research your new neighborhood to find out the nearest grocery store, coffee shop, convenient way, gym and club
Make an inventory items list, such as electrical goods and furnishing and their condition when you moved in.
Ask for the latest gas safety certificate for the new property
For safety issues, you can ask for the installation of a carbon monoxide alarm
Check if the flammable items have a fire safety label to meet fire safety regulations
Ask your landlord for the TV license if you record programs. If you have one from the previous rental property then change it to your new address or apply for a new one
Let your local council know about your move so they can work on the Council Tax amount you need to pay to
Register your new address to the electoral roll. This also crucial your new credit card as credit card reference agencies take address detail from the electoral roll
Take the gas and electricity meter readings, so you are only charged for what you use
Finally, you are all ready to move and the countdown to the moving house checklist has begun. The big day has come. You should start implementing these tips and tricks step by step months before you move. It's time to celebrate! If you have a yard, invite your neighbors to a small party with your friends and family. This is a good way to make new friends. That concludes our checklist.
Our moving house checklist is printable to keep it handy and help you meticulously plan out your moving day in advance.
Contact us, if you are looking for a trusted removals company that offers moving services including house removals, office relocation, furniture removals, man with a van, packers and movers, pool table movers, and piano movers.