A pool or billiards table is a unique investment. It shows your love and enthusiasm for a particular sport. It is also one of the trendiest things to own in the UK. People are increasingly becoming fond of these tables not only because they add a lot of elegance and class to their interiors but also because they become a topic of conversation quite easily. A pool table keeps your friends entertained and it can be personalized according to your interior design. Yes, the design options are practically limitless and they fit well in your living room or your lounge area, or wherever it is that you want to put them.
A pool table is a brilliant centrepiece and adds a lot of aesthetics and appeal to your property. but several homeowners find it very difficult to move this piece of furniture when they are in the process of moving from their old home to their new house. This puts them in a very difficult spot because they do not want to damage even a single part of this brilliant and beautiful work of art. This is why we have curated a few ideas and tips that will help you move your pool table safely and in one piece without disturbing your peace of mind.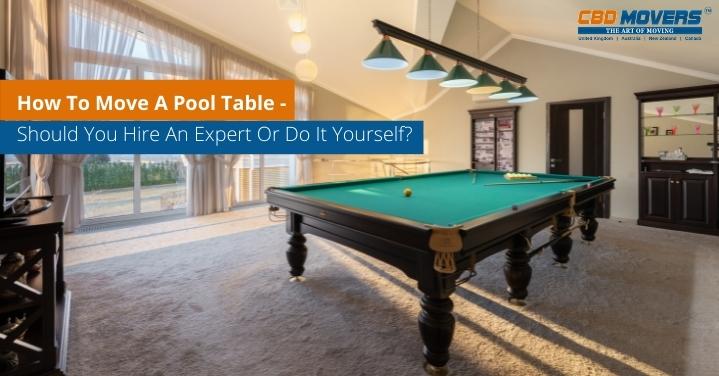 Tools And Moving Supplies
If you don't intend to hire pool tables movers in London, you must invest in the following tools to successfully move it yourself:
Power Drill
You will be needing this power drill to screw out long and thick screws that hold the legs of your pool table together. Just put it in reverse motion after placing it on the screw head and you are done.
Safety Glasses
Safety glasses are always a must because they protect your eyes from any unexpected splinters or dust particles that may fly out.
Flathead Screwdriver
You will also need a flat head screwdriver to dismount and open various parts of your pool table.
Socket Wrench
Again a socket wrench can help you remove those rounded and thick nuts and bolts that hold the table together.
Staple Remover
Staple removal is going to help you remove the pool table ball nets.
Moving Blankets
Eventually, you will be wrapping the several parts of your table in moving blankets.
Bubble Wrap
Bubble wrap is going to give you extra padding to protect its numerous parts and legs.
Boxes
You will be stuffing the various components of your pool table in cardboard boxes so that you can transport them easily.
Label Maker
A label maker is going to be very useful when you will finally convey your pool table to the moving van.
Disassembling The Pool Table Like A Pro
Always begin by measuring the doorways and pathways
Make sure that your hands are not sweaty or wet
Remove any clutter from the path that you will take to convey the pool table to the van
Cover the sharp edges and corners of the pool table to prevent any damage
Start by removing the ball pockets from under the table
The side rails will be next and you will need the socket wrench for that
The next part will be unstapling the felt
Now you will have to remove the slates and for this, you will need your screwdriver
The last step will be to remove the pool table legs
Transporting Your Pool Table
Moving your pool table to the van so that it can be transported to your new house is the most critical step. If you are doing it on your own, you will need the help of your friends and neighbours. You must ensure that the ramp you use to slide up the pool table components is sturdy and stable. Make sure that all the components are first put into labelled boxes before you set them up on the moving vehicle. Also, label which side of the boxes should be facing up and which should be facing down. Make sure that the boxes do not hit any door frames when you are laying them down on the floor.
Moving The Pool Table Yourself Or Hiring A Professional Pool Table Mover – A Quick Comparison
Now there are a few things that you might not be used to very much. When it comes to dismantling and moving your pool table, you may feel that you are a little more nervous as compared to when you dismantle other objects and pieces of furniture. This is because your pool table is an expensive piece of item that you never wish to ruin. This is why there are a few reasons that you would want to hire pool table movers instead of doing this on your own such as:
Measuring the pathways and doorways could be a little tricky.
Dismantling every part of the pool table and making sure that all of them remain safe and unscratched is never easy.
Packing the pool table legs and protecting them from any damage can get repetitive and tiring.
Moving your pool table components across the stairs is a different challenge altogether.
You just can't take necessary precautions when you are transferring your pool table to your new location if you are not aware of them in the first place.
Reassembling your pool table is one of the trickiest things because you can mess it up very easily.
Moving The Table Safely
This is a no-brainer because professionals have the tools and resources to make sure that the table gets transferred safely. They know how to deal with the various joints and components of furniture pieces and practically all kinds of objects made from wood.
Highly Skilled And Experienced
A van man moving company in London would be more skilled at what they are doing. They receive proper training for the purpose and this is why it makes more sense to give them this responsibility.
Faster Dismantling And Reassembly
You can easily say goodbye to any stress attached to dismantling or reassembling the pool table all by yourself. This also saves you a lot of time. And of course, you know that the reassembly is going to be 100% accurate.
Final Word
So yes, if you decide to move your pool table on your own, there will be a lot of challenges that you will have to face all by yourself. You will have to plan out the entire move and must also take necessary precautions to protect the table components from getting damaged. But once you leave all these responsibilities onto the able shoulders of a dependable pool table mover in London, it makes your life a lot simpler. And this is exactly what we are here to do. CBD Movers UK has set the bar quite high. We believe in punctuality, professionalism, and dedication. When it comes to simplifying your house move from one location to another, the brand that you can rely upon