If you have been collecting various fragile items like lampshades, glass picture frames, mirrors, and wine bottles, you would never worry until a moving date comes by. Moving shall remain to be a tiring task for people who are about to pack fragile items on their own.
Professional movers in Camden shall know the nuances involved in safely packing and transporting without bringing any form of dent or damage. If this is your first time hiring professional moving services in Camden, make sure the below-mentioned packing and moving procedures are followed to start and complete the entire removal process as a tension-free one.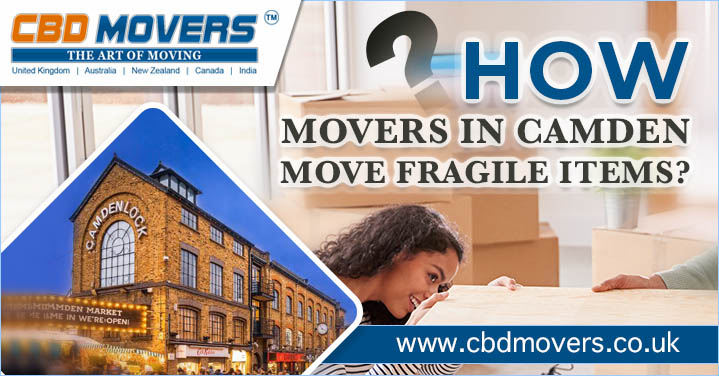 Packing And Moving Electronic Items By Moving Company In Camden:
Any kind of electronic item that needs to be moved must be unplugged from the power socket at first. Once all the wires are stacked, the electronic item must be safely ported to the moving vehicle using a piece of special equipment like two or four-wheel dolly. These dollies have wheels present under them, which makes it convenient for moving company in Camden to wisely move the mounted electronic device without damaging or denting them at any part.
Stacking Plates And Glasses Into Bubble-Wrapped Boxes:
Packing boxes must be bubble-wrapped in the interior region to absorb and avoid any kind of shock denting the fragile items. Before signing up the relocation services in Camden, make sure the movers in Camden have such functional packing boxes aboard. This way, you shall remove up the stress involved in packing your favorite wine glasses and find the right removals services in Camden to take forward the task as well.
Find a Man With a Van In Camden Who Can Label Your Fragile Items:
Labeling the packed boxes that have fragile items shall not only let you unload and unpack them safely but also helps man and van in Camden be aware of the things present in them and provide utmost care while porting them.
The Need To Fill Up Free Spaces In a Packing Box:
Spaces must never be left the same as it can imbalance to the other fragile items packed inside them. The man with a van in Camden must fill such free spaces using a bundle of newspapers or bubble wraps so that no kind of wear and tear happens to the other items.
CBD Movers UK has been providing reliable moving services in Camden for many years and also known as the best piano movers in London. Their in-house piano removals in London team members are trained periodically to understand creative and safe ways to pack any kind of fragile items that you are looking forward to moving along with other household belongings.