Having a plethora of thoughts while moving to a new place is very common. In this hustle-bustle, it is quite acceptable to forget things. But, skimping on electrical safety is something that might cost you more in the longer run.
Failing in safely moving the electrical appliances and not getting the wiring of the new house fixed can result in some real-time problems. So, it is always recommended to avoid pressurizing yourself and seek the help of reliable removals in Glasgow or proximate to your new house. This outsourcing of your moving work will reduce your burden and will let you concentrate on other important matters in the same regard. Let's check out some of the things that are super important tips in concern with electrical safety.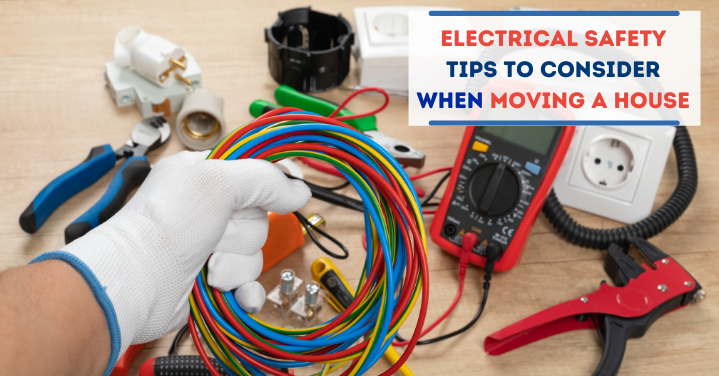 Tips & Tricks Related to Electrical Safety
Make a checklist of all your electrical appliances and see if every piece of equipment is in proper working condition or not. You should remember taking efficiently working equipment ahead is equally important to safely transport them to your new house. Whether it is your washing machine, refrigerators, ovens, computers, and printers, the most important thing is to get them checked before moving to a new house. This checking will save you from bad experiences in your new life. And, just like the others, you would never like to be in an unpleasant situation while getting started with your new beginnings. So, it is crucial to check for all the malfunctions in your appliances beforehand, and also maintaining a proper checklist of your equipment is mandatory.
Switching the main power off is one of the important practices that you should follow during ongoing works at your space. Man and van services in Glasgow or anywhere in the UK make it important to turn off the appliances a few hours before the move. Even, you should ask your gas provider to shut disconnect before moving. This is how you can save yourself from the extra hassle during the last minute and at the same time, your electrical safety will be effectively maintained. You might have to request for the utility discontinuation on a priority basis as these things usually take 2 to 3 business days to be done. So, plan things effectively and beforehand.
Electrical Inspections are the most important aspects of keeping with the safety in the same matter. While moving to a new home, you cannot skip getting it electrically examined. You must seek the help of a qualified electrician to run this inspection in your new house. Asking the removals in Glasgow for recommendations for electricians at a new place would be quite helpful. This will ensure you that your new house's wiring is on point and you are all safe in there. Even if there would be some issues, then you can get them resolved before moving. Don't you think it is always good to be careful with matters of electricity?
Along with these tips, the foremost thing you must do is to find more energy-efficient appliances for your new house. If you think your existing equipment is not up-to-date and will not be working for a long time, then investing in new ones will be feasible during relocating. You can get the installations done feasibly and would not land into any trouble later on while dwelling. So, understand the role of electrical safety especially while moving to a new house, and take decisions accordingly. Hiring professional removals in Glasgow from CBD Movers UK will make things more feasible and you will have more time to concentrate on electrical issues instead of concentrating on shifting to your stuff in the new house.