Why should you hire a moving company in the first place? That is the question. If you are capable of moving your house on your own, you will not require the services of any packers and movers in the UK.
Is that true though?
What if you have a huge house? What if getting rid of all your stuff or organizing a garage sale is not possible? You cannot possibly imagine yourself doing all the packing and moving to your new home.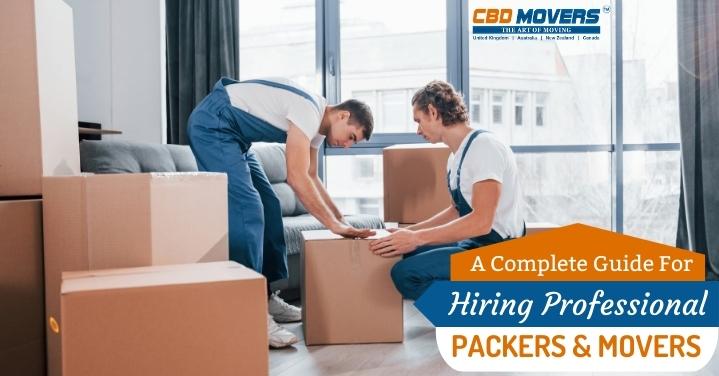 This is where you will need the assistance of a reputable professional packing and moving company. But for this, you will first have to understand more about the packers and movers. So let's ask them a few questions:
How long have you been in this business?
Are there any complaints filed against your company?
If so, what action did you take to rectify the situation?
Do you have any references we can rely upon?
Are you a licensed company?
What kind of insurance/liability cover do you provide?
Quick Estimate – The Biggest Reason To Hire Them?
The biggest reason to hire a packing and moving company in London is their efficiency and speed in coming up with an accurate expense estimate of the entire move.
Ask them if they can provide you with a binding quote or at least an initial figure that will give you an idea of the entire expense that you have to bear for this move.
You should also ask them about any potential charges that they might not have revealed to you yet.
Also, inquire about any additional moving supplies that you might have to pay for from your own pocket.
Several moving services in London also have a strict cancellation policy. Ask them about that policy before you hire them for the job.
Keeping Your Expectations Real
Another very important consideration to keep in mind is the kind of services they offer and up to what extent. These services may or may not include the following:
Dismantling your furniture pieces before they are transferred to the truck
Reassembling your furniture pieces and other fixtures when you move into your new house
Setting up your home office in your new house
Helping you set up the baby room
Assisting you with your home security system
Providing additional packing materials if and when the need arises
Assisting you in unpacking your delicate appliances the day you move in
Helping you with critical office equipment that you may find difficult to set up on your own
Ensuring that your fish tanks and plants get transported to your new home without any hassle
Helping you set up the same in your new home
Ask them whether they provide piano, pool table, and grandfather clock moving services or not
These considerations are very critical. You need to inquire about all these things before you hire them to help you move your house. This is going to enable you to figure out all the logistics and it will also keep your expectations in check. There are other questions as well that you must keep in mind and should ask the packers and movers before you sign on the dotted line such as:
How should I get in touch with the driver?
Is there anybody else in your company that will get in touch with me?
Is there any third-party service provider or any subcontractor that is involved in this move?
Are there any additional charges for additional packing supplies?
What forms of payment do you accept most frequently?
How long is the entire move going to take?
If there are any broken items on the way, how do I file the claim?
Who will be responsible for those broken items?
Customer Reviews Are Very Important
You will have to get dependable references from your friends, relatives, colleagues, and neighbours when you are looking for the right packers and movers in the UK. They must come with solid recommendations and if they don't, steer clear of them. Visit their official website and go through the testimonials posted by their previous clients. You can also check their social media profiles and see what their clients have to say about them and the quality of service that they provide.
Getting A Walkthrough Is Essential
Next comes the walkthrough of the entire moving process. You have already gotten a rough estimate of the entire move. You will now have to come up with a moving plan in coordination with your moving services provider in London. They must be more than willing to share with you a completely ready plan to move you out of your old house room by room. They will also explain to you just how the passageways of your house will be cleared of any clutter and furniture pieces as your stuff is moved to the moving vehicle. Their moving team will share with you how the floor will be protected to make sure that there are no scratches or damage when your heavy cargo pieces are moved out. They will assist you in segregating your belongings more efficiently which will help you decide upon which items you want to keep and which to donate, sell, or discard.
Ask About The Cost
This is absolutely vital for the entire arrangement to be a success. There will be a lot of costs involved but none of them should be unfair. Always remember the following:
Do not pay a large deposit under any circumstances
Always do your transactions through check or credit cards
Avoid choosing moving companies that keep changing their names
Do not transfer any initial deposit into their bank accounts
Do not scan any QR code to make any kind of payment online
Always look for the small font at the bottom of the agreement
Final Thoughts
These were some very critical and detailed steps that you must take when you are looking for professional packers and movers in the UK like CBD Movers. We are a trustworthy brand because our sterling and timely packing and moving services speak for themselves. Having worked relentlessly for more than 15 years in the industry, we have gained an unparalleled edge and an exemplary reputation that no other professional has. You can rely on us for punctual, all-encompassing, affordable, comfortable, and flexible house moving services. CBD Movers UK is there for you, always.