Do you know that Liverpool is one of the best cities to visit in the UK? It is also one of the best cities to start a new life. It is also one of the most loved cities for students of practically all ages and disciplines. The people here have the best fashion sense and they are so warm and welcoming that you would want to stay here for the rest of your life. It is also home to the most historic docks in the country, and if you are looking for affordable yet comfortable life, this city is the one for you. So, the next stop for you is to look for a reliable van man in Liverpool: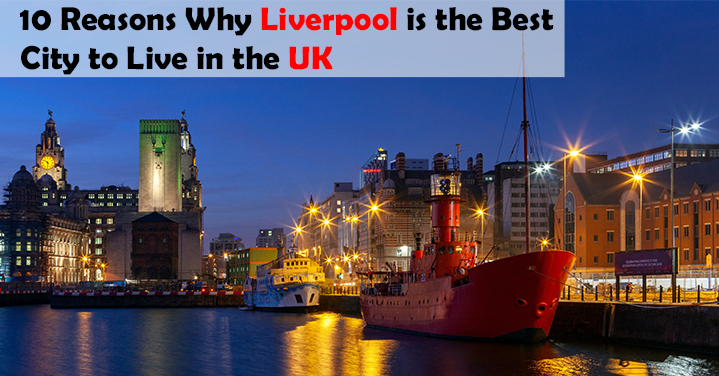 1. Liverpool Is The Safest City In The UK
What makes it one of the safest cities in the UK is the law and order situation here. Needless to mention, the people of this city are highly cooperative and welcoming as well. You can talk to absolutely anyone, anywhere, and about anything at all. The people of Liverpool are going to welcome you to their city with open arms and a wide smile. It is very easy for you to make friends here and attain a sense of security. You can easily connect with people who share common interests with you and would be more than willing to open their homes to you and their ears to your stories.
2. Best City For Students
Do you know that this city has a student population of close to 70,000? And the numbers are constantly rising! It is home to some of the most coveted and popular universities in the whole world. The University of Liverpool, which has a world ranking of 189, is right here. Liverpool John Moores University also has a very impressive world ranking. Some of the most popular courses that students opt for here are physiotherapy, art, building and town and country planning, the French language, history, religious studies, theology, and a lot more. There are several scholarships as well, including the British Council Scholarships, Liverpool Hope University graduate and postgraduate scholarships, University of Liverpool graduate and postgraduate scholarships, and the list goes on.
3. Best City To Start A Business
You will be surprised to know that the Manchester-Liverpool region is one of the top 10 regions in the world for emerging startups and boasts one of the most favourable ecosystems for new businesses. The city is 5th among the most positive and lucrative ecosystems in Europe, right next to London. So yes, if you thought that London was too expensive for you, wouldn't you want to consider directing your removals van to Liverpool this year?
4. Best Football Clubs
You can find a football lover practically on every street in this city. This may not be a selling point for a lot of people, but yes, if you are a true football lover and want to visit some of the most popular football clubs, Liverpool is the place you should be. Football is the way of life for a significant chunk of people here. You will find some of the biggest sports fans, collectors, dreamers, and aspirants right here in Liverpool. Needless to mention, the city is also home to Anfield and Goodison Park. You are very close to two of the biggest football clubs in the world, apart from the legendary LFC.
5. About Libraries
If you are fond of books or want to explore the history of this city, the Liverpool Central Library is not going to disappoint. It has been renovated, and you are going to love the Picton Reading Room, which has been restored marvellously. There is another library that is one of the most frequented ones in the city, which is right on the side of the Tempest Building. Yes, the Avril Robarts Library is where all the artistic minds are found. Also, the Toxteth Library Building on upper parliament street is a spot many students and book lovers are extremely fond of.
6. Nightlife
If you talk about the nightlife of this city, it is going to be centred around 3 main areas: the centre of the town, the Baltic Triangle, and Lark Lane. These are the 3 corners that are popular for the best cocktails, live music, clubs, and bars. You will also be able to find a lot of student-friendly bars in this city. They are safe and frequented mostly by youngsters. Also, it is a pretty green city, which means that if you want to take a walk under the stars, enjoying the cool breeze, you have come to the right place.
7. The Food Scene
The food scene in this city is all about creativity. Liverpool loves to eat. It is known for some of the best Mexican joints that you will ever come across. If you are looking for a hearty breakfast, nothing better than these joints to begin your day with. But if you are looking for something traditional, you can get something at City Cafe for around £3.95. There is also a very popular trend of charring veggies and meat. So yes, if you're looking for something like that, you should go with Cedar Food and Drink, a brand quite famous among youngsters. Do not forget to try custard tarts, dim sum buffets, and everyone's favourite, fish and chips, with a local twist.
8. Famous Places To Visit For Travellers
The Beatles' birthplace
Royal Albert Dock
Tate Liverpool
Merseyside Maritime Museum
Victoria Gallery and Museum
Pier Head
George's Hall
Walker Art Gallery
Liverpool Metropolitan Cathedral
Liverpool Cathedral
Museum of Liverpool
Croxteth Hall
National Waterways Museum
Birkenhead Park
It's a never-ending list, really!
9. Music
The city of Liverpool is known for its music. The people of this place love music so much that it has been designated as a UNESCO City of Music. Remember, there were four lads who shook the world? Yes, the Beatles belonged to Liverpool. If you are a true Beatles fan, you would definitely want to come here to pay homage to them. Other than this, Liverpool is also the home of the Arabic Arts Festival, the Liverpool International Music Festival, Positive Vibrations Reggae Festival, Sound City, and Psych Fest, just to name a few.
10. History And Culture
What would you like to explore when you are in the city? There is the Walker Art Gallery, Tate Liverpool, the Liverpool Everyman and Playhouse, and so much more to inspire you. The best part about this city is that it has a highly dignified and diverse culture that every citizen is extremely proud of. A sliver of this beautiful heritage and culture can be seen in Tate Liverpool, which is one of the best touring modern art exhibitions. If you want to check out the latest music and live performances deeply rooted in the history and heritage of the city, do not forget to visit the East Village Arts Club.
So? Thinking About Steering Your Van Man To Liverpool This Summer?
At CBD Movers UK, we won't advise you to be hesitant, but again, don't be hasty either. This could easily be one of the most fun and fulfilling decisions of your life. Given that the number of opportunities for a better and highly satisfying life is second to none in this city, you should be good. Something to think about.